SCSC is back for yet another awesome instalment! This time we explore constructing and controlling conversations
About this Event
South Coast Sellers Club
The South Coast Sellers Club is a community-led meetup for salespeople at all levels, business owners, start-up founders, team leaders and those looking to break into the world of selling, or even just to understand more about it.
Through regular events covering a wide range of topics, we're here to help you develop your sales technique and build long-term value for your businesses, so come along!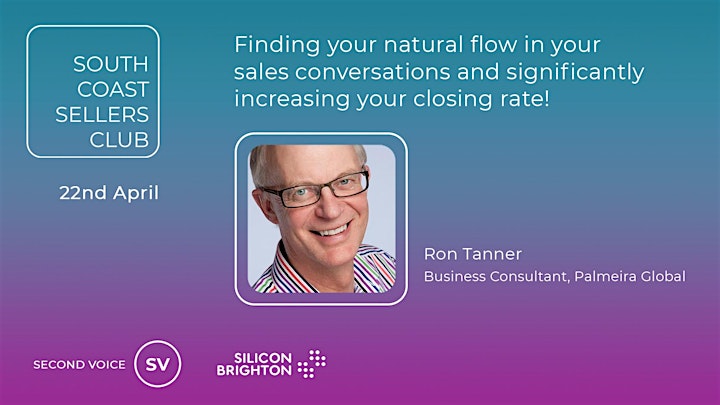 How to construct and control conversations
This month we're exploring the way we, as sales people, can construct and control conversations – a crucial skill in both written and verbal scenarios.
Alongside host Ben Bennett, our special guest for this session is Ron Tanner. Together they will discuss:
The 7 key elements of a successful sales conversation
Why a process is useful and increases your conversion rate significantly
Why less is more and gets a better result
Tactics that you can implement in your own sales efforts immediately
There will also be a chance for you to network with other attendees and share your experiences – good and bad – in order to help our growing community become better at winning business and increasing the success of your organisation, whatever the size.
About Ron Tanner
Ron is passionate about creating better conversations during the sales process.
After many years as a mentor, business consultant and coach, he found that the more natural the conversation, the more successful the outcome. However, when the conversations were "pushed", the results were less favourable. This led to the idea of finding a process of organic yet structured conversations.
Ron has trained many people in this process, helping them achieve extraordinary results while at the same time being true to themselves.
————————————–
Reserve your ticket today, block the time out of your diary and be ready to apply all of your learnings to your job, team or business today.
The South Coast Sellers Club belongs to you! So be sure to let us know what sales topics you want to hear more about.
scsc@secondvoice.co.uk